Whether you are a business owner, an entrepreneur, business coach or consultant, nowadays everyone is focused on the same goal – recovering from the many economic challenges created by the Covid pandemic.
At Alec Lom Events & Communications, we specialise in helping growing companies and organisations to raise awareness of their products and also their key personnel.
When budgets are tight, it's tempting to question the value of promotions and marketing. What's going to be your return on investment? Are media and publicity worth bothering with? Can they really boost your sales and profits?
As the Chairman of Nike once famously remarked, you can produce the best product in the world, but if no one shines a light on it – a media spotlight – then few people are likely to see what your company has to offer and you won't grow sales.
We have the media experience (including at BBC Television and over 50 years in Fleet Street between us) to offer you expert support and advice with media campaigns, press launches, releases and social media.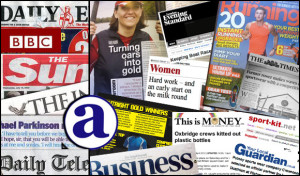 We can also help you with copywriting, newsletters and bespoke media training – leaving you free to concentrate on growing your business.
If you're in the health & fitness, sport & leisure or events & entertainment sectors, we talk your language. We also love supporting pet companies. Our experience in broadcasting and of the film business helps us promote events and the entertainment industry. We work with businesses in the 'green' and 'eco' sector, too. Like our clients, we care passionately about sustainability and the environment.
If we work together, you'll probably hear from us every day. We know you are devoted to your vision. We know your team works hard. And so do we, on your behalf.
We agree goals and a strategy with you, and will always go the extra mile. And we take pleasure in making introductions for you to other businesses to help you grow yours.
If you'd like a free consultation, or just a fresh pair of eyes on a challenge you're facing, get in touch. In strict confidence, of course. We'll be very pleased to hear from you.