Do you have any experience of media work? Does the prospect of an interview fill you with dread? Or are you quite media-savvy? Maybe you'd like to handle yourself a bit better when a notebook, microphone or camera is unexpectedly thrust your way.
The best media trainers are people who've worked on 'the other side of the footlights'. They know just how journalists operate. The best trainers are also au fait with the latest technology and strategies used by journalists in print and broadcast media.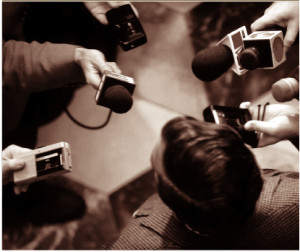 At Alec Lom Events & Communications, because we've worked as journalists in local and national print and broadcast media, we have all that knowledge and expertise – and we use it to support you every step of the way. So we brief you thoroughly before interviews (often finding out in advance what the journalist will ask you), attend interviews with you, debrief you afterwards.
We highly recommend all our new clients take part in our full-day or half-day media training sessions. These involve practical exercises involving newspaper and magazine interviews, both face-to-face and on the phone. We'll also rehearse in-studio and 'down-the-line' radio interviews, teach you techniques to get your key messages across; for TV interviews, training covers dos & don'ts, and expert tips and advice that will boost your confidence and steady the nerves when the studio car comes to collect you.
We believe media training is a really wise investment in yourself and your company, not least because you'll be putting this training into practice constantly when we're working together.